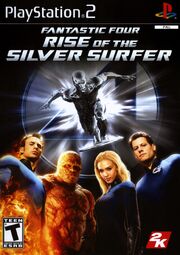 Fantastic Four: Rise of the Silver Surfer is a video game based on the film of the same name, Fantastic Four: Rise of the Silver Surfer and stars the Fantastic Four and the Silver Surfer published by 2K Games. It is the second Fantastic Four game that allows 4 people to play as together.
The storyline focuses upon the movie of the same name, Fantastic Four: Rise of the Silver Surfer . It also combines the previous film's plot, Fantastic Four; and features characters out of the film such as Dr. Doom. 
The Player takes on the role of one of the team members (stated above) and control there powers and complete the game through a similar format of the films. The player is able to switch characters at any time they wish to do so. Although the player acts as one character it also plays as the whole team.
In addition to missions featuring the whole team, there are also various solo missions during the game, such as the Human Torch chasing the Silver Surfer through New York or Sue Storm using her invisibility powers to sneak through a Military Base.
Note: There are 12 different moves in the game, one with each combination of team members. For example; if Susan Storm is creating an energy field & Johnny Storm is filling it with flame, it effectively creates a bomb.
Reception 
Edit
The critical reception varied from negative to mixed reviews. Hyper's Daniel Wilks commends the game for "being better than Pirates of the Caribbean: At World's End". However, he criticizes it for being "dull, repetitive and lazy".
External links
Edit
Community content is available under
CC-BY-SA
unless otherwise noted.